Testimonials


DelRoy Smith:
I just want to say thank you for the beautiful pup (DelPicasso Batista).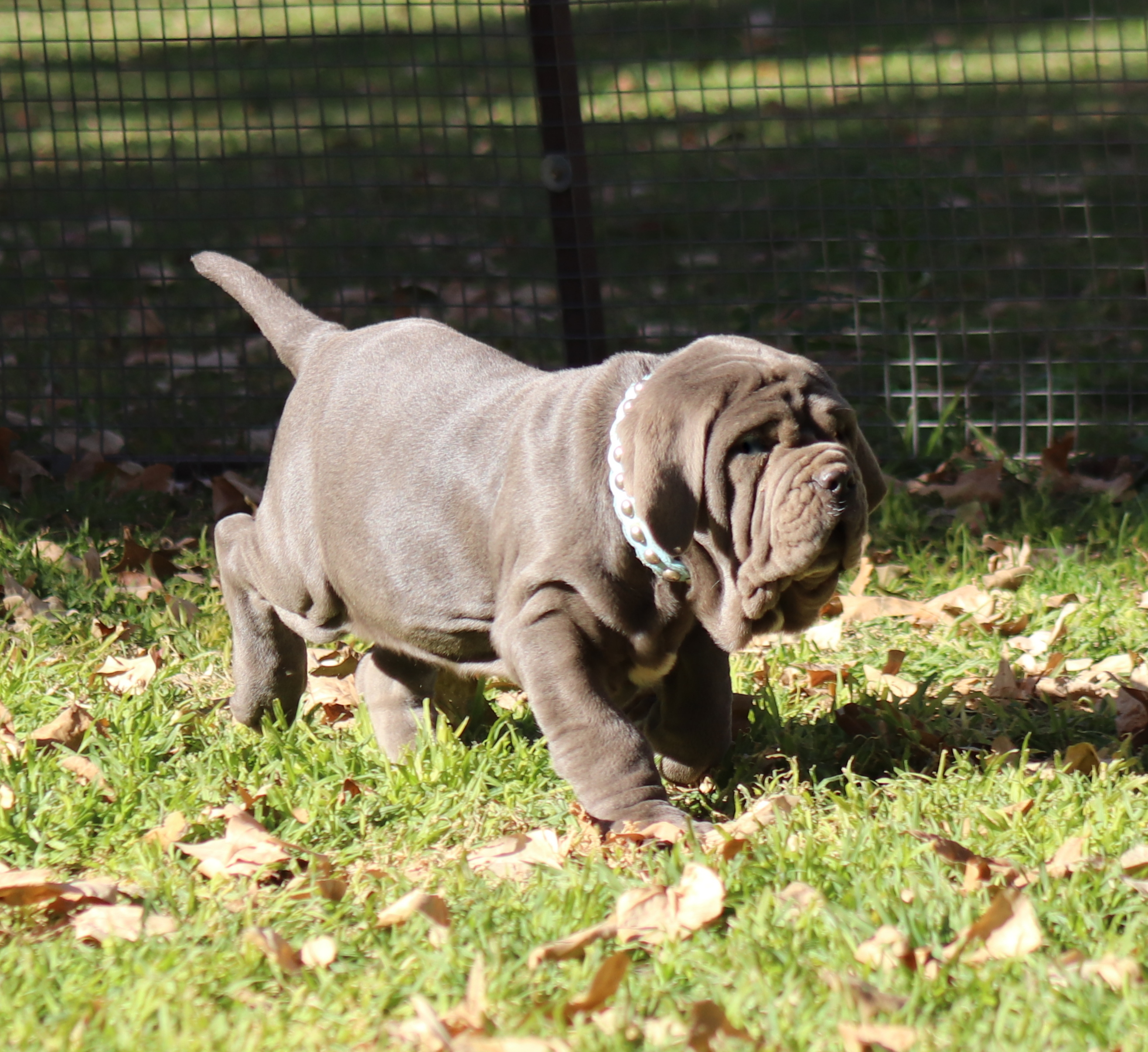 I truly can't believe how beautiful he is. Me and my family are truly happy and can't thank you enough. He is definitely a quality pup and we love him so much already.

You truly deserve the recognition as the quality of pups and love you put into them is amazing.

Mr Delroy Smith

Harare, Zimbabwe




Herman Kellerman, Parys:


We loved everything we encountered while visiting Linda with her dogs.

Well kept kennels, dogs all in excellent condition. We had the priviledge to take Santu on a leash to experience pure power. Thank you Linda for taking the time to educate us about this magnificient breed.

Soon to have our own!!




Sonia Wells, Kyalami:


Very knowledgable breeder that is passionate about her breed. Dogs are so happy and very well looked after.

Thank you Linda and Francois for taking a few hours on your Sunday afternoon to show us your pride and joy. Can't wait to get our baby!!




Johan Klopper, Northcliff:


A day well spent visiting Linda with her beautiful dogs. All dogs in fantastic condition, very clean environment. We also got an intensive crash course on the breed (Very much needed)




Emma Theron:


Dedication and perseverance for decades. The love and passion for her dogs can be seen and heard. Very knowledgeable owner!!!

I am in love with this breed!




Kobus Neethling:


Kennel Par Excellance!!! Outstanding in every possible way.

(Loved your brag rooms with the trophies and rosettes)

Looking forward to get our puppy from you.




Gerald van Vuuren:


Wow Wow Wow!!!

Excellent day with great quality dogs, excellent kennel setup and the best part of the visit was to take Mega (USA Import) for a stroll. Awesome to feel the strength of these dogs. Thank you Linda for giving me the opportunity to experience them in real life.




Leslie Baker:


Very impressive. They way the dogs are treated, shows dedicated love and passion from their owner.

The best setup I have ever seen. Dogs are in excellent condition.




Ruth Mc Fehrson:


I was fortunate enough to meet Linda and her dogs, and I am so impressed by the entire setup, the quality of all dogs are magnificient. Further Linda spent about 2 hours talking us through every step of the breed, so we could make an informative decision. Taking our new baby home soon!




Ronel & Kobus Greyling:


Can't wait to get our puppy. This place is a MUST SEE.

Very impressive. Linda spent 3 hours introducing us to the breed and explaining pro's and con's.




Sean Ferreira:


Magnificient dogs and owner. Super clean kennels with very intimidating but impressive dogs.




Frans Bothma:


Thank you Linda for spending hours with us, explaining your beautiful breed. It was very informative. Dogs are living in excellent and spacious conditions. Well done, you can be very proud!




Danny Schaperkotter - Netherlands - FB post:


Een mastino Napoletano pup van uw is die prys meer dan waard. Het is niet even pupy kopen. Het is investeren in tijd, passie, liefde, gezondheid. Toewijding voor het ras. Het is niet fokken het is creeeren van een mooie pupy ras.

Godszege uw.




Nancy Keck - New South Wales - FB post:


Most breeders today are paying attention to health and conformation and Linda is certainly one of them. I would be delighted to have one of her breeding in our kennels.




Rikke Anderson - Denmark FB post:


A good breeder who works hard and take responsibilty. I wish more breeders would be more critical of who they sell to, just like you.




Kayleigh-Jean Legge - FB post:


As a future vet and an avid animal welfare activist I have never liked breeders. I have devoted all my time to get animals sterilized and finding homes for the existing dogs and puppies in shelters, so naturally I wasn't a fan of breeders. I have also met truly terrible breeders and tarnished them all with the same brush.

And then I met you and visited your place. I saw the love, compassion and energy you invest into every dog. You scan and screen for health issues, you sterilize when necessary and you always put your dogs first. When chatting to my welfare friends and vet student colleages, I now have an example of a true genuinely good breeder. I litterally always talk about you.




Daneel Brooks - FB post:


Linda jy het die mooiste honde kinders en ek weet watse passie jy het vir hulle. Vir my was dit love at first sight. Ek sal by geen ander teler koop net omdat ek weet jys die beste.




Ronel Swanepoel - FB post :


I know that you truly love your dogs and are one of the most responsible breeders i have ever had the privilage to met. One day I will also have the privilage to be part of your extended family.




:
Lindas passion and love for her Dogs is something everyone should aspire to.

What an absolute privilege it was to be welcomed into her beautiful home and to witness her world class set up. Meeting her stunning babies was the highlight of my weekend, they are all so spoilt and well taken care of.

We cannot wait for our pup to come home .

Thank you Linda.


Johan Scheepers, Marikana:


Hierdie honde is nie vir sussies nie, dis seriously die mooiste, grootste honde wat ek nog gesien het! Linda het ure geneem om ons alles mooi te verduidelik, en om al die honde te sien was n voorreg. My plaas kort beslis n paar van hulle.




Michelle & Juan Cox:


What an eye opener, seeing Linda's setup, her interaction with her dogs, and the state of art kennels and maternity rooms. Then we went on and discuss the possibility to be screened as a possible owner of her Neapolitan puppies, so we had a few hours conversation, checking that we tick off all the boxes.

I will recommend anyone to visit the magnificient Neo's. It was a life changing experience for us as a family. The kids got to play ball with 'Mega'!




David Forsythe:


Excellent quality dogs. We got so much information about the breed. Our entire family could interact with the dogs. Lovely temperaments. Clean kennels, we were blown away. Unfortunately they have a waiting list, so we have to wait for our new family member..Can't wait to get our DelPicasso puppy.




Crescencio Guiamba - Mozambique:


I would also recommend Linda Janse van Rensburg. I bought a puppy from her las year, before she was born. I was concerned but i received my puppy, when she was ready to travel, 2 months later.

FB Post

30 March 2020




Tracy Ransom-Foreman - USA:


I purchased a Neapolitan from Linda in 2016. It was my first import that I did, not pick up by myself. I was so nervous, but Linda did EXACTLY what she said she would do. My Denim got here safe and sound. Linda Janse van Rensburg loves her fur babies and it shows. I trust her completely. If you ever have questions, ask me. She is amazing!

FB Post

30 March 2020




Jacob Gaethje Arizona USA:


I want to give a huge thank you to a very honest and trustworthy person, Linda Janse van Rensburg - thank you for being honest with me. I purchased a beautiful Neapolitan puppy
(DelPicasso Arlo) from her months ago. Due to the unfortunate situation with Corona virus are unable to bring him home from SA. I want to say thank you to Linda for keeping her word and refunding me. I am sure we will do business again my friend.

FB Post 30 March 2020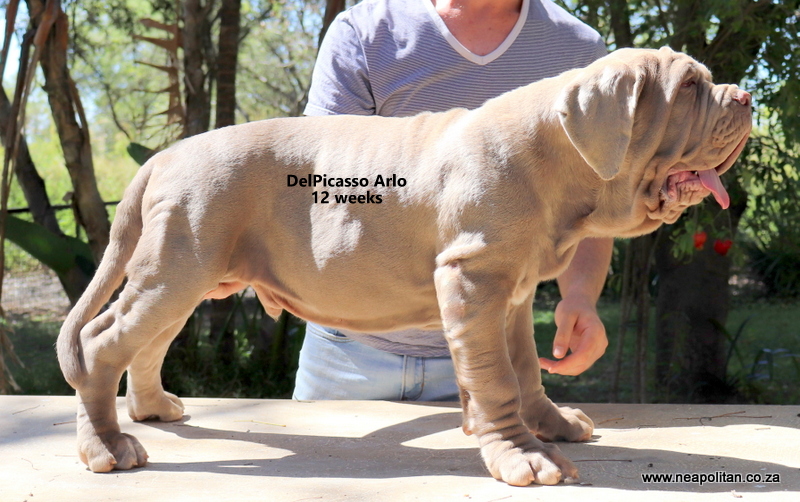 Lelanie de Kock, Potchefstroom:


When I first started my enquiries about the breed, I got Linda's number from The Kennel Union of SA. Not sure what to expect, I first went alone to see her dogs, her setup and to make sure I buy from a reputable person. I was shocked to see, that all her Neo's was in excellent condition. They were so well behaved and Linda even introduced aal of them to me, taking some out of their camps, and I could feel what it feels like to hold onto a leash with a massive dog on the other end. I went back the next weekend to show my parents, husbandand two kids the gorgeous dogs. I AM SERIOUSLY IN LOVE!!! Waiting now for my baby from the current litter.




Johan Liebenberg, Pretoria:


Thank you Linda for spending hours with us, explaining the breed, the possible health issues and answering endless questions. By far the most experienced breeder I came accross. Looking forward to get ours soon.




Fanie Moolman:


Looking forward to get my two puppies from you. Your dogs are in excellent condition, same with your kennel area. Passion for the breed, it is a fact.




Hannes Meiring, Kaapstad:


A huge thank you for Linda and her team for sending us the most beautiful puppy ever.




:
Most Definitely the BEST Neo Breeder!!!!!! Puppies of high standard and excellent quality with the best temperament. Thanks for trusting us to raise another one of your babies. Mika is the most adorable puppy with so much love to give. Our whole family love her to BITS. Thanks for all your love, compassion and time that you put into this breed


Esther Munro, Texas:


I had such great experience importing my female Mastino from Linda in South Africa. She is very knowledgable about her breed and works very professional. The entire import process for me was very comfortable. I really recommend that people contact her for Mastino Napoletano.




Johan Swanepoel, Middelburg:


Best I have seen ever! Can't wait for my puppy to enter the showring!




Pat Croukamp:


Thank you for making time today to let us meet your dogs. We are so in love with the breed. It is very striking how passionate you are about your furkids. Well done!




Alex Cook:


Dear Linda,

It was such a pleasure to visit you and your beautifull dogs today. Well done on the fantastic job you are doing. The dogs are all kept in super clean camps. Thank you for allowing our entire family for almost 3 hours with your dogs. The children loved it, and we are looking forward to bring our puppy home.




Annatjie Botha, Mayville:


The best looking kennel I saw in my life! All dogs are super well kept. Very impressive. Can't wait for our puppy.




Kassie Jacobs:
Best looked after dogs I have seen in years!


Dr Les Osrin / Isabel:


Dear Ms Van Rensburg

Thank you for the opportunity to view your magnificent dogs and your highly effective breeding facility. You have truly created an international reputation and a world class setup which is most impressive. I was not sure about your practice of vasectomising (and castrating) male dogs but was informed by the Reproductive Medicine Dept at O.P. that this is also common practice in Europe. I have to congratulate you on your efforts as well as successes reached with the breed. You are certainly setting an example to the entire world.

I would really like to acquire the puppy `WALDO` and look forward to receiving from you the financial info and whether we can fetch him on Saturday.

Thanks and Best Wishes




Anna & Dave Bohme:


Dear Linda,

Thank you for allowing us yesterday to visit your beautiful kennels. By far the best we have ever came across. All dogs were in excellent condition, well kept in spacious camps. What we observed immediately was the cleanliness of the entire place and off course the passion you have for your breed. It was truly an amazing experience.




Anne Ward, Middelburg:


We have visited many breeders with different breeds of dogs over the years. Our expectations to visit a breeding kennel were not really very high, as we normally bought our dogs from registered kennels, and mostly our experience was not pleasant, as we hate to see dogs kept in small areas, sometimes filthy. But visiting Linda and her dogs, totally shocked us. We could not believe how clean the dogs were, all nicely groomed, in spacious areas where each have their own room, own bed etc.

We are proudly owning one of her puppies now and can recommend anyone to visit her farm for a mind changing experience. Her knowledge and passion for her breed is addictive.




Kenneth Ward, Northcliff, Johannesburg:


Dear Linda,

Thank you for allowing us to spend yesterday visiting your facility. By far the best kennels we ever came across. Kept very clean. So nice to see all the dogs in such excellent condition! We are very exciting for the arrival of our puppy soon.




Lynn & Daniel May:


Very impressive setup! All our expectations were exceeded by far!




Daleen Martins White, Carletonville, RSA:


Ek het soveel wat ek wil sê, en het soveel dankbaarheid teenoor jou! Ek wil WEER dankie sê vir die voorreg om jou in my lewe te kan hê. Wie is Linda? Vir die mense wat haar nie ken nie, wil ek sê dat sy my waardigheid vir my terug gegee het, sy het my weer geloof en hoop gegee. Hierdie klein vroutjie, het n hart van goud. Ek was so bevoorreg om daar te oornag, en sy het my deel gemaak van haar familie, soos sy deel geword het van myne, en sy SAL altyd deel wees van myne. Sy is n sterk onafhanklike vrou, en sy kan met trots terug staan en kyk wat sy alleen bereik het, ongelooflik! Wie is Linda? Sy is passievol, kreatief, ñ denker, blymoedig, deernis vir ander en ñ besigheidsvrou wat vir geen man hoef terug te staan nie. Sy is passievol teenoor haar diere, twee van haar babas(okay nie meer babas nie) slaap saam met haar in haar kamer, haar honnekinders. Die respek en liefde vir haar Neo's, is ongelooflik en haar babas word met soveel sorg en liefde getroetel. Het ek dit al ooit by enige ander teler gesien.......NEE. Julle is spesiaal en ek dank God dat hy julle oor my pad gebring het!




Jacqueline Roos - Proud mom of Fabiano & Gabriella Del Picasso :


My Experience of Picasso Neapolitan Mastiffs

I have always been interested in Neapolitan mastiffs and have done a lot of research. When I started looking for a Neo in South Africa I encountered many scammers until I found Picasso Neapolitan Mastiffs. When I spoke to Linda the first time she invited me to her home to meet her Neo's. We had a long conversation about the suitability of a Neo in our family home. Although they are magnificently large dogs Linda stressed that they remain puppies at heart and I should prepare for having a huge, drooling, pup behaving adult dog. Linda also does thorough investigation before placing a pup ensuring they don't end up in the wrong hands. I was very impressed by all the support I received from Linda after adopting my first Neo. I am now a proud mommy of 2 gorgeous Neo's and must admit I love all dog breeds but Neo's are extra special. I'm very grateful I found a responsible breeder and a beautiful friendship with my breeder. I would recommend Picasso Neapolitan Mastiffs to anyone interested in this breed.




Dr Connie Haasbroek Pretoria, RSA :


My first encounter with Linda and her magnificent Neos was about three years ago at Onderstepoort Veterinary Hospital. We were both awaiting our pets' clinical results and we started conversing. As animal lovers and activists against animal abuse we instantly found common grounds. From the first moment I was impressed with Linda's ethical and caring attitude.

About a year ago, I became the proud owner of Gabriella-Gianna del Picasso (Gabbie), my first Neo, a very healthy and well socialised puppy. Linda allowed me frequent visits to the litter until Gabbie was big enough to take home. During my regular visits to Linda's plot, I am always impressed by the high standards of her facilities, care given to all adults and puppies, and her ethical conduct. After I adopted Gabbie, Linda and Francois, on a continuous basis, are rendering advice and support; always an email/phone call away.

The food, treats, and toys which I bought from Del Picasso are of an exceptional standard and well-priced. Many of the items offered by Del Picasso are handpicked or manufactured by Linda and most enjoyed by my animal children. Some of these items are unavailable at the local pet shops and Del Picasso in this regard is providing a most needed service.




Dr Meyer, Pretoria :


Thank you Linda from Picasso Neapolitans for giving us proper breed info as well as a detailed tour through the kennels. The best kennels we have seen ever. Extremely neat and clean. The dogs were all in super condition. We were so impressed by her breed knowledge. For sure an example to show the world how it can be done. Proudly owning our own Picasso puppy.




Pieter & Carine Rautenbach - Centurion, Pretoria :


It was lovely to meet you and your beautiful Picasso Neapolitans yesterday. Thank you for taking the time to explain this beautiful breed to me and my family. Also THANK YOU for helping our disabled child to touch these dogs. Lindsy had such a fear for dogs, until she met your dogs. Awesome clean kennels. Well done!




Shane Visagie - Roodepoort :


Definitely a lady NOT to mess with. She have such a passion for her dogs, and they adore her! Her knowledge and handling of these huge animals are impressive!




Carol Kleynhans - Alberton :


When we arrived at the Picasso Kennels, we were in a hurry to hopefully fetch a puppy. Linda started to question us, and we could not understand, until we finished the Kennel tour…certainly she have some valid points. These dogs are not for everyone. They are huge. Unfortunately we have 6 Yorkies at home and cannot separate them from the Neo, so together we made the decision NOT to put the Yorkies in any danger…so unfortunately we were not in a situation to take a Neo puppy home for now…but in the near future…we will certainly go straight to Linda at DelPicasso kennels. Very very impressive!




Adv Johann Kruger - Northcliff, Johannesburg :


Visited the Picasso people today and were shocked to see the outstanding and clean kennel setup. I have to compliment them on their kennel management and overall condition of the dogs! Can't wait to get our puppy soon!




Odewalo Femi - Nigeria :


You people suck for not wanting to sell the Neo dog to me. Not all Nigerians are bad people, and I love my dogs. Not happy as I expected to pay cash and get a puppy. Why so strict? Please consider me again in future. Your dogs are outstanding and I have to get one.




Christo Botha - Vereeniging:


Impressive and very lucky huge dogs. They live the ultimate paradise life! So great to see that there are breeders still caring! We arrived much later than planned at DelPicasso. Feeding time was very entertaining! Lots of real chicken…some had beef…OMW…don't think we can afford that, but thank you for spending the time on the Botha family…one day we will own a Picasso Neo..for sure!




Mark Greyvensteyn - Sasolburg, RSA:


What an experience! Travelling with 4 kids in the vehicle and grand ma of 87, we arrived on the farm of Picasso Neapolitans. We were so impressed with the beautiful dogs, clean and well equipped camps…these dogs are not in kennels, each dog have their own (Huge) camp, with a room, etc…etc…

Kids didn't want to go home after seeing the pups!

Outstanding facility with passionate owner/breeder…well done!




DelSamae Neapolitan Mastiffs - Cormae & Sarel Badenhorst (Bloemfontein) :


About 6 years ago we visit Linda for the first time to pick up our first "adopted" girl Venus. Since then I adopted Ogre a few months down the line and bought 6 neos through the years. Picasso has never ever once let me down with regard to after care and help where I needed help. Linda has always been there to assist especially in difficult situations eg when my boy Bochello had a major spinal problem and had to be euthanized she immediately refunded me.

She assisted me through the whole registration process to become a member of KUSA and also she was there for us to assist in the show ring, helping to show when we could not. I can whole heartedly and with great pride tell everybody that Linda from Picasso has great dogs, is the best breeder in SA and is always willing to assist and give best advice where needed. She knows her breed and her dogs are greatly cared for and in the best health condition.




Preyen Nayiager, South Africa :


I must say it was the most pleasant experience I have come across. Linda has a real love for the breed she treats every pup as her own. I was surprised when they asked me to fill out an application but getting to know the owners at Delpicasso it is purely to protect the breed.

The owners gave me loads of advice before I even bought the dog. I regularly contacted Linda for advice on the dog and she was more than helpful. We had a very serious case when we didn't know what was happening and we had to rush the dog to the vet, He was struggling to breath and had collapsed in the yard. I called Linda and she gave me advice and she followed up with us the next day. The dog came through the ordeal and is no fully grown (it might have been bitten by a snake or insect we never found out). We have a fully grown fantastic 2 and ½ years old male now. Who seems to amaze people all the time.




Anton Lubbe, Johannesburg RSA:


We had the most fantastic day out, visiting Linda and her dogs. We were interviewed properly, and she gave us lots of information on the breed. It is very clear that passion is the drive behind DelPicasso Neo breeding and not money.

Also Linda gave us pro's and con's on owning and living with Neo's, that helped us to make the right decision.

Her dogs are well cared for and we can strongly recommend people to visit her before making a decision on getting a Neo.




Johan Koekemoer, Vereeniging, RSA:


We bought two magnificient puppies from Linda during the past two years, and can only say, that we had a truly awesome experience. We were informed properly about the breed, the purchase process, and YES – we were on the waiting list for a long time, but it was worth the wait.

Each time, after receiving our puppies, Linda followed up on their progress, and gave us enormous assistance whenever we needed help. Our one puppy developed an eye problem, and Linda assisted us, together with our vet, to make the correct decisions on treatment. We are great full to have two stunning top quality Neo's!




Antonie Schoeman, Bloubergstrand, Cape Town, RSA:


The best breeding kennel in SA by far! Not only because of top quality Neo's, but top quality owner that is trustworthy and an ethical breeder, always putting her breed first! We salute you!




Celia Becker, Johannesburg, RSA:


On the 11 December 2011 I received an email with two photos to rescue Thunder a Neapolitan Mastiff. I was the lucky "parent" to adopt Thunder, Linda and Johan assisted me with all the formalities and personally delivered Thunder on the 18th December 2011.

Being a gentle Giant he accepted my mother's two dogs immediately, even when my mom got herself a kitten he was extremely gentle with Storm. Unfortunately the neighbour dogs killed Storm a few weeks ago.

Thunder is a little mischievous boytjie he loves everyone especially Lee (Jack Russell); they play hide and seek, chase each other around the garden it's amazing to watch them play the large with the miniature dog.

Thunder waits for me at the gate every afternoon to get back from work he acts like a little buck with happiness and he loves it when I hug him. He has crept deep into our hearts; I will recommend adopting Neapolitan rescue dogs as they adapt easily and only bring love and happiness were ever they are.

Thank you Linda and Johan for making my life complete!




Adele Koekemoer, Pretoria, RSA:


Top quality dogs! All kept very neat and in huge facilities! Impressive. Thank you for spending half a day on us, just so we can learn about this magnificent breed. Looking forward to get our first puppy from you soon!




Adrie Schoeman, Polekwane, RSA:


We adopted a rescue Neapolitan from the rescue foundation through Linda. She took great care in making sure that we are able to provide what the dog needs. She assisted us through difficult times and she always puts the Neo's 1st! Impressive!

One day we will own our very own DelPicasso puppy.




Hervé RAOELISON, Des Trésors de la Passion, MADAGASCAR:


I ordered two dogs From DelPicasso and they have arrived in Madagascar by air freight without problem. I think it is the passion that motivates Delpicasso not money.




Antonio Gregoria, From Naples, Italy – Now living in Johannesburg, RSA:


Happy owner, Proudly owned by DelPicasso Mastini!




Volker Lutig, Windhoek, Namibia:


We imported 2 Neapolitan puppies from DelPicasso kennel in South Africa. The entire process of importation were done quickly and very efficient, and to top it all, we received two outstanding beautiful Neo puppies from them. I will certainly import from them again.




Bradley White, Kempton Park, RSA:


We are visiting yearly the World of Dogs and Cats Expo, ONLY to see our most beautiful Neapolitans from DelPicasso. Stunning dogs, stunning expo, Best stand every year…




Angie & Marcus Botha, Durban, RSA:


We bought a puppy from an unregistered breeder in SA (Unfortunately). We didn't knew what we were heading to until we started to pick up serious issues with our pup. The backyard breeder was by this time no were to be found, so we googled and came across Linda's website. We nervously phoned her and to our surprise, she assisted us with all the matters although this was not a pup from her kennel. When we visited

Linda on the farm, we quickly realized that our beloved Lisa is NOT a proper well bred Neo, but we love her dearly. Now we have learned and our next Neo will certainly be from DelPicasso. They strive to breed healthy dogs and to better the breed…..my type of breeder!




The Schoeman family, Centurion, RSA:


I am delighted to see that there are some breeders like DelPicasso, that put everything aside for the sake of their dogs. We had the pleasure to visit this lady on her farm, and we saw her stunning farmyard, occupied by huge Neo's. Not only did she spent hours to educate us with her breed, she brought out a special dog to play with our paralyzed and frightened son of 14 years! He was scared of animals, until Linda gave him a chance with Daliah. Now Altus is over his fear for animals…

Our visit to Linda and her kennels was not to book a puppy, but she met us at Wodac, and we mentioned our disabled kid is scared of animals, so we got an invitation – this was a life turning event for our little family. Thanks Linda for changing our lives, and although we wasted your entire day, you guided us with patience.




Michael Cromhout, Pretoria, RSA:


Magnificent Neo's, well cared for. Great owner with huge amount of knowledge about the breed. We admire you lady! Well done with all your show successes. We follow your every step!




Yolande Strydom, Honeydew, RSA:


I had to give up my Neo's due to personal circumstances. I phoned Linda and she assisted me throughout the entire process. Today, I am still in contact with my Neo kids, thanks to this wonderful woman! Linda is the Neapolitan Mamma in Africa!




Petrus and Santi Ferreira, Potchefstroom, RSA:


We were on the edge to settle for a Neo puppy from DelPicasso. BUT, with the interviews, Linda had some akward questions, which we didn't understand straight away. After 3 visits to her farm, plenty of discussions, she proofed to us, that we were NOT ready to be Neapolitan parents due to personal circumstances. When she told us, we were NOT happy at all, but today, one year later, we are SO great full for this correct decision. Take her advice, she knows her breed.




Andrew McCoy, Sandton, RSA:


I visited many kennels all over the world, but according to the fact of scaring knowledge to strangers, Linda is Nr 1! Not only does she have world class dogs – this is a world class breeding home. First time in my life that I saw maternity rooms for dogs! (Mickey Mouse) Ha ha…And full time staff, day and night to make sure the precious little ones are safe and sound!!!

Where on earth have you seen this?




Adrian Ras, Botswana:


Only one place in Africa to get your Neo's…ask me…




Michael McLieu, Egypt:


Me and Yvonne were shocked to see these world class, truly magnificent Mastino Napoletano, Right here in Africa! Pleasant people to deal with. Already exported my first puppy, now saving for the 2nd one!




Martin Du Toit, Botswana:


Truly, honest and sincere lady with a huge passion for her 'ugly' dogs! :-) I have one Delpicasso dog and are patiently waiting for approval to own a 2nd!




Tania Nel Lamprecht - Kaapstad:


Ons kan met trots die dienste van Delpicasso aan beveel. Ons het professionele diens van Linda gekry en wonderlike "after sales service". Ons het nou die pragtigste waghondjie met die lieflikste persoonlikheid en in die toekoms sal ons definitief weer van Linda en haar span gebruik maak.




Carol Kleynhans - Alberton:


When we arrived at the Picasso Kennels, we were in a hurry to hopefully fetch a puppy. Linda started to question us, and we could not understand, until we finished the Kennel tour…certainly she have some valid points. These dogs are not for everyone. They are huge.

Unfortunately we have 6 Yorkies at home and cannot separate them from the Neo, so together we made the decision NOT to put the Yorkies in any danger…so unfortunately we were not in a situation to take a Neo puppy home for now…but in the near future…we will certainly go straight to Linda at DelPicasso kennels. Very very impressive!






---
Submit your testimonial