Some of our latest puppies. Pictured at 8 weeks of age.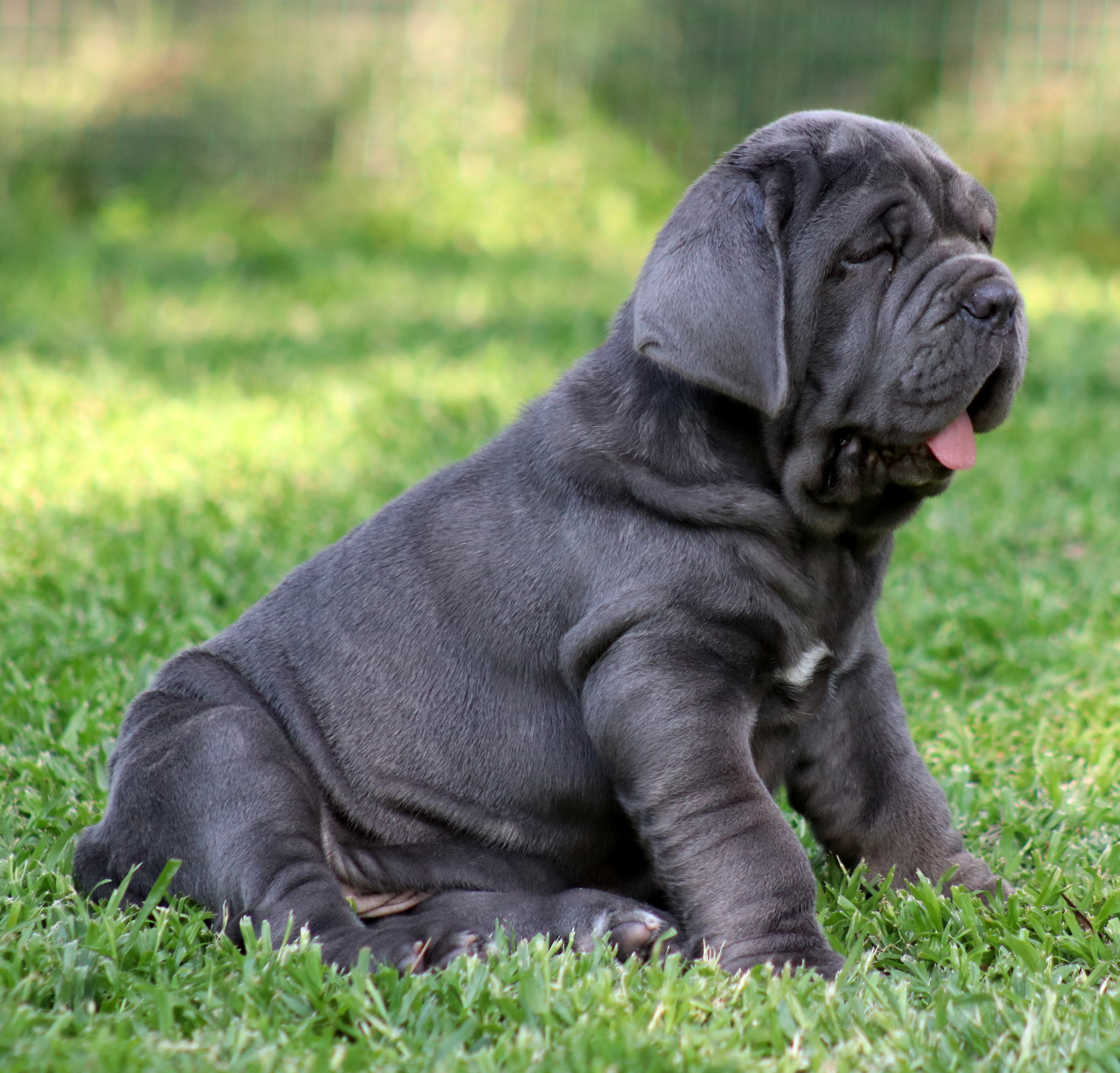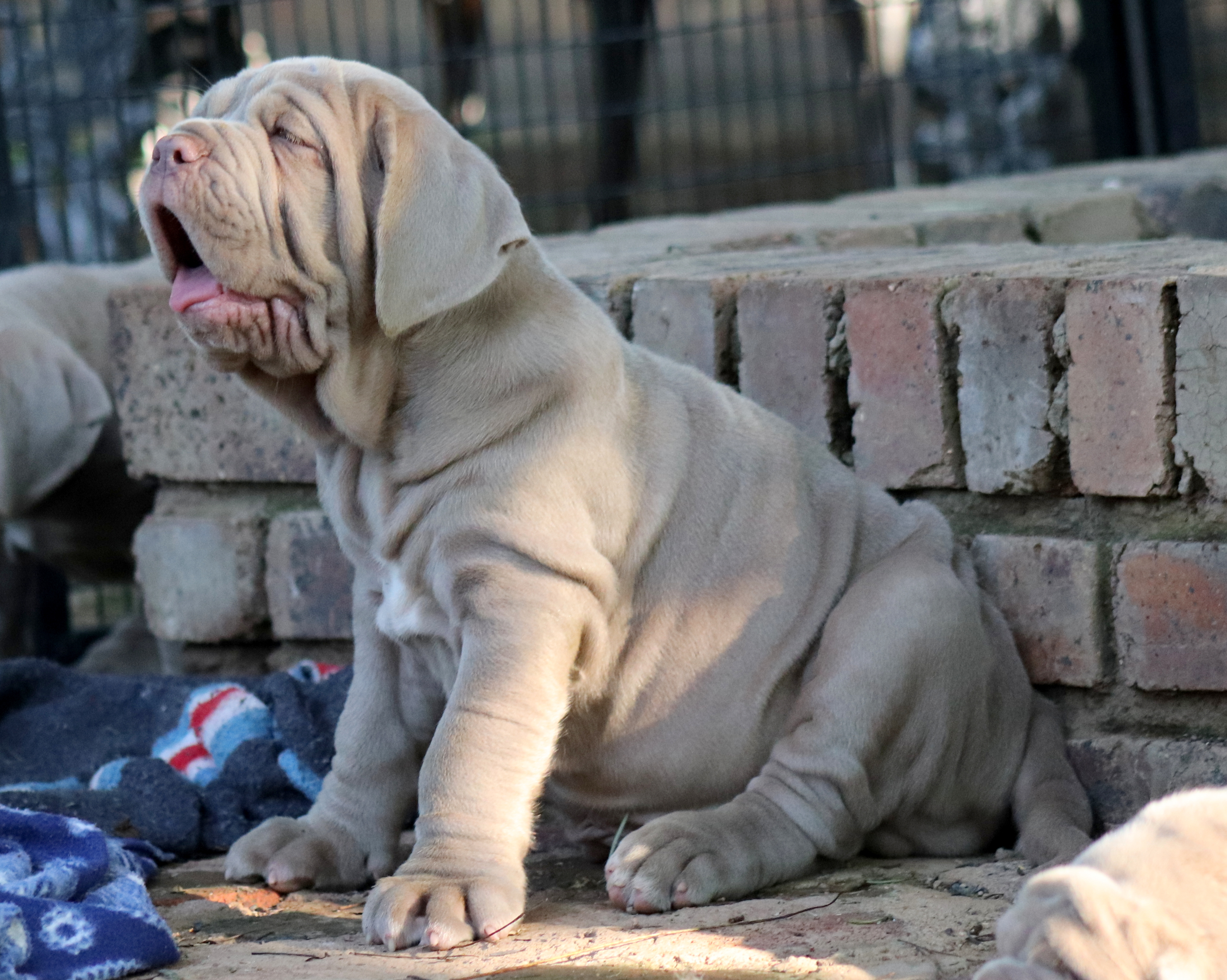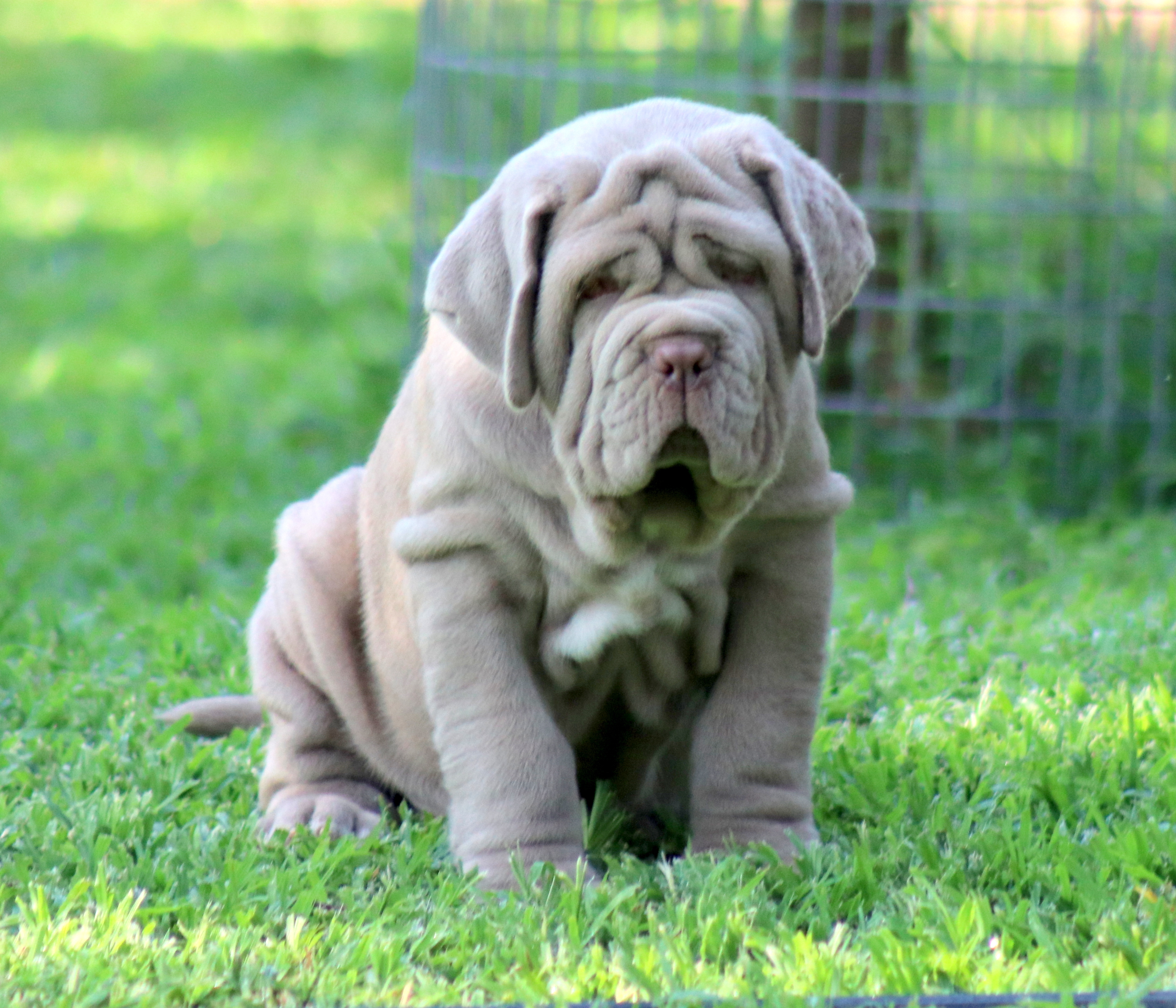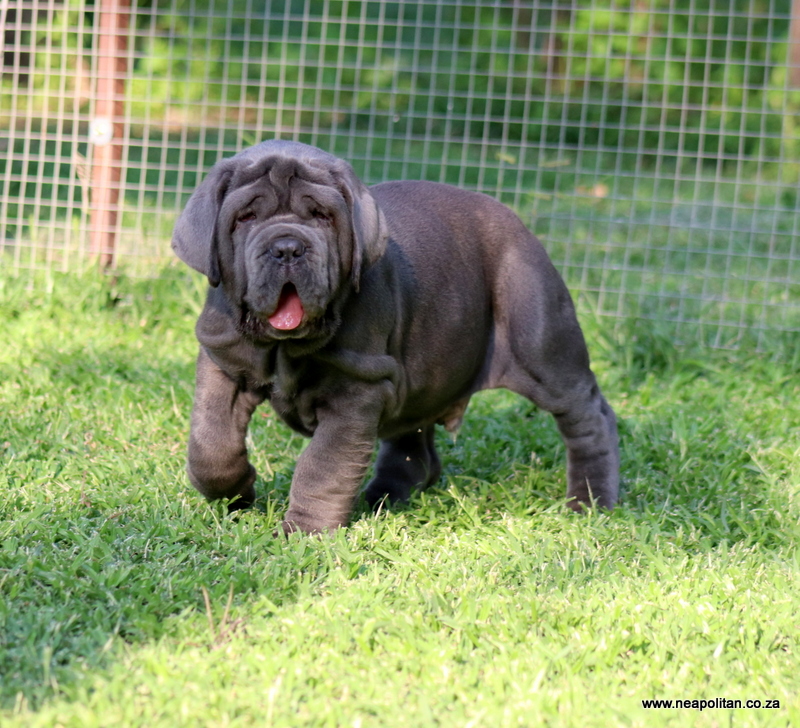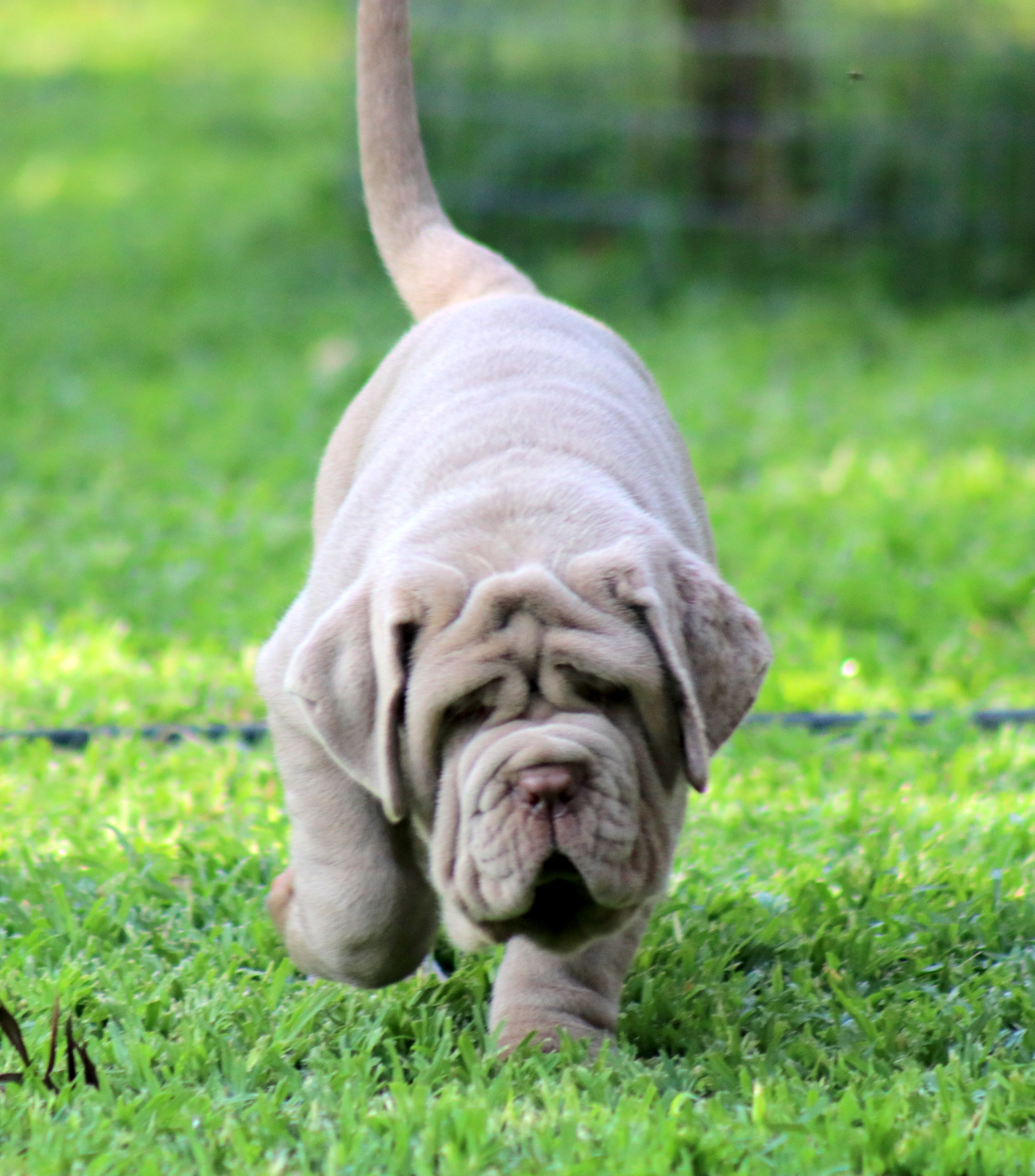 Summary of Important info for the new client:
1. All our puppies are registered with the Kennel Union of SA, and nothing else. Export pedigree's can be done for export puppies. Just ask for that.
2. To order a puppy from us, start with completing the Puppy application form, as we really want to select the best homes only.
3. We sell either non-breeding puppies (males are vasectomised/female's tubes tied down) or breeding puppies (fully intact)
4. Male and female puppies are the same price. Price difference comes in between breeding and non-breeding puppies.
5. Puppies are sold with a contract, including 18 month health guarantee.
6. All breeding dogs are HEALTH TESTED AND CERTIFIED - prior to breeding.
7. Feel free to ask us for references, we will gladly provide you with everything.
Frozen semen
We ship worldwide! We will supply an updated semen evaluation report when you order Frozen semen from us! Semen evaluation will be done via experts
Dr Kurt de Cramer and Mario Smuts from Vet fertility Services.
Adults available
We export worldwide, but unfortunately we do not export to African countries such as Nigeria, Ghana etc. due to severe neglect towards animals. No exception here, so please do not even ask.
Young or adult dogs from our kennel may be available occasionally. As we are very strict on health as well as conformation, sometimes you have to let go. Sometimes we keep a puppy, and as the puppy matures it may turn out to be not a show & breed quality puppy at a later stage, so in this case a puppy might become available at a much older age.
We also rescue and re-home all pure-bred Neapolitan Mastiffs in South Africa. We have a policy that our home-bred puppies are welcome to return back to us in case the owner's circumstances change and they can't keep them anymore. We have successfully re-homed several adults in such situations. Please watch this space for any Neapolitan Mastiffs that may become available for re-homing or contact us.
Unfortunately going forward with the breed, we have to constantly improving our dogs, so unfortunately from time to time, we might have young, healthy dogs available to a loving forever home.
*****************************************************************************************
DelPicasso Fabia - Born 17 April 2018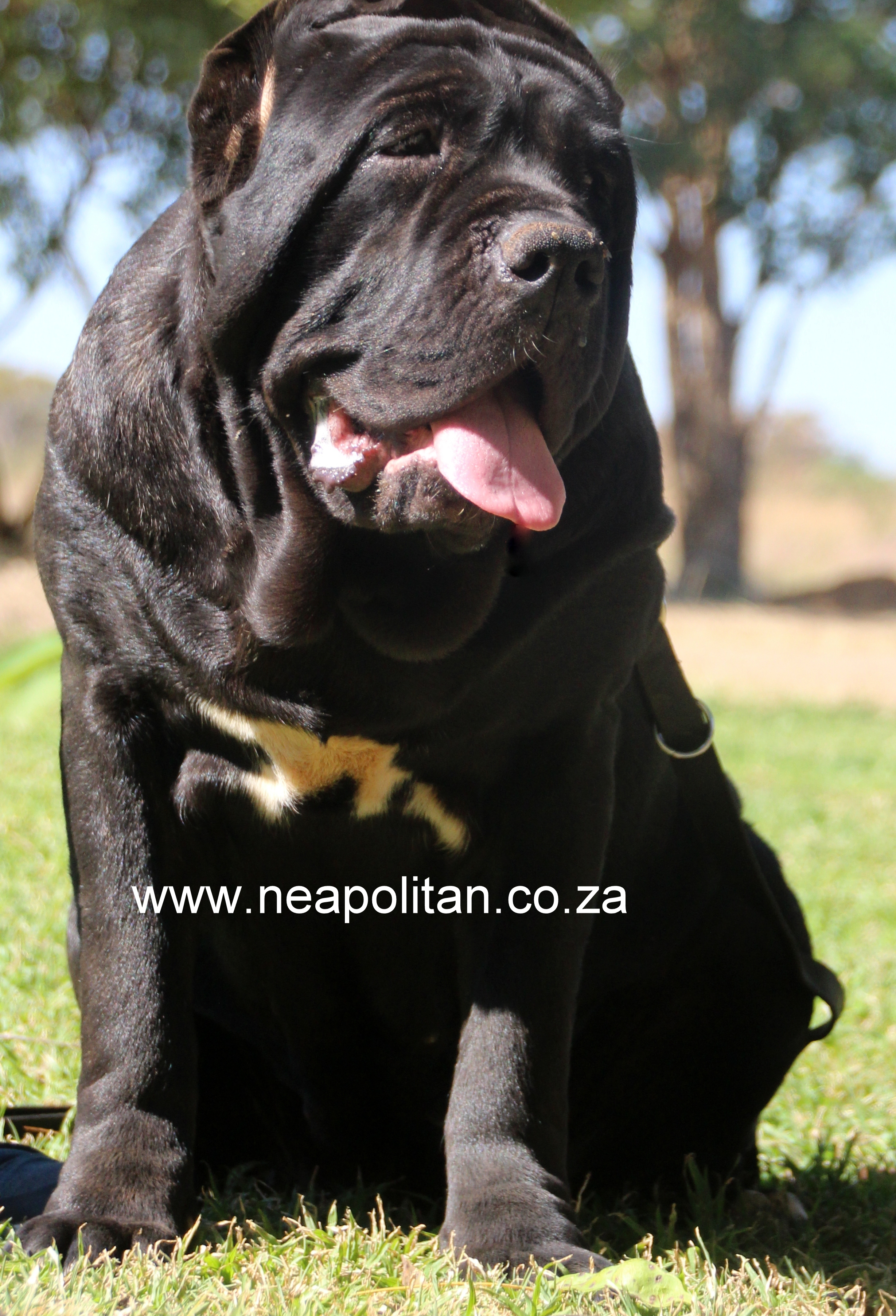 Born 17 April 2018
*****************************************************************************************************************************************************************
SA Champion Quaresma della Grandozza (Imp Hungary) - Born 5 Aug 2015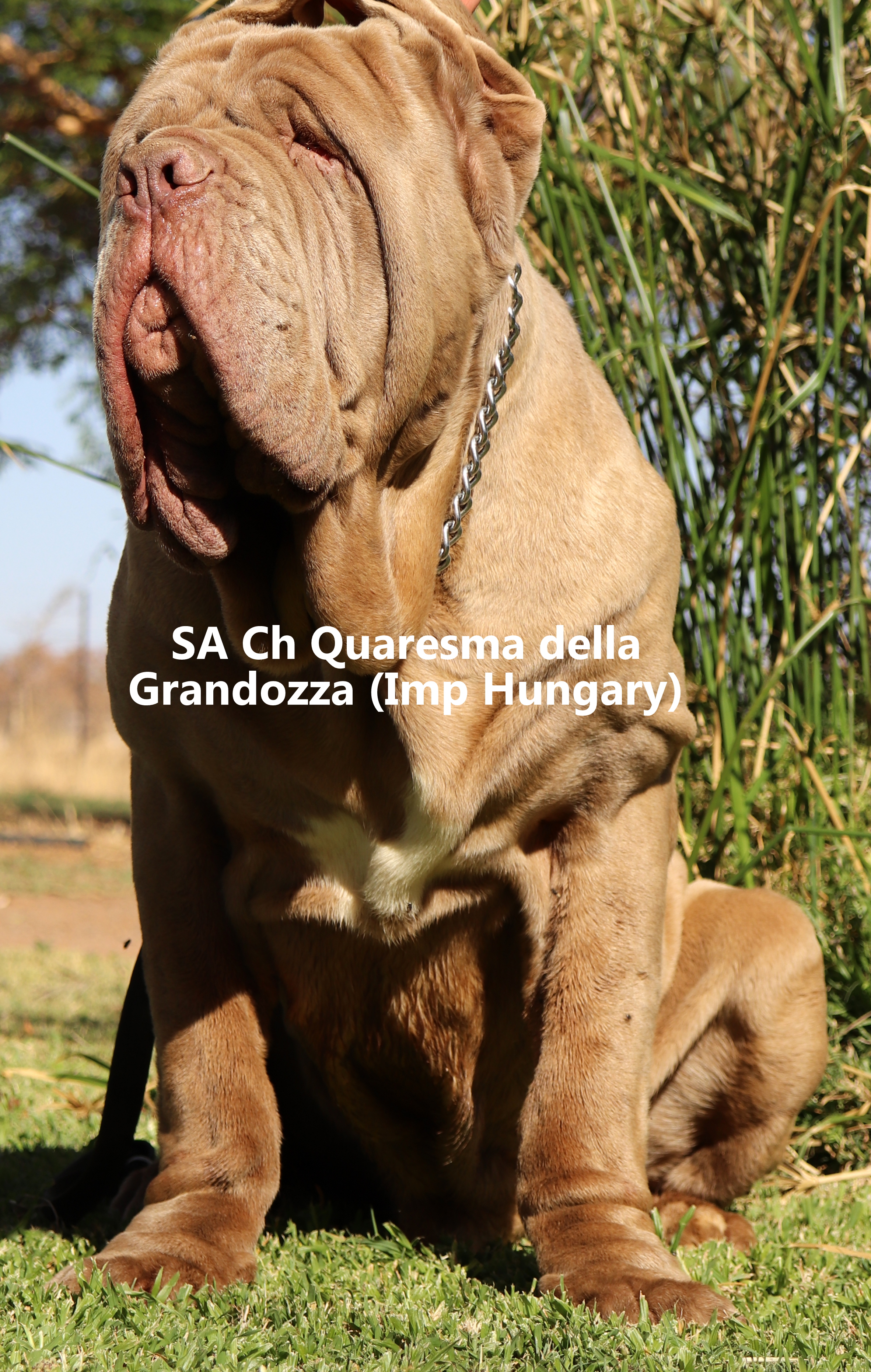 Quaresma is healthy, have excellent sperm, great personality, never had any eye issues.
**************************************************************************************************************************************************************************
Int / Grand & SA Champion Coronte of DelPicasso (Imp Serbia)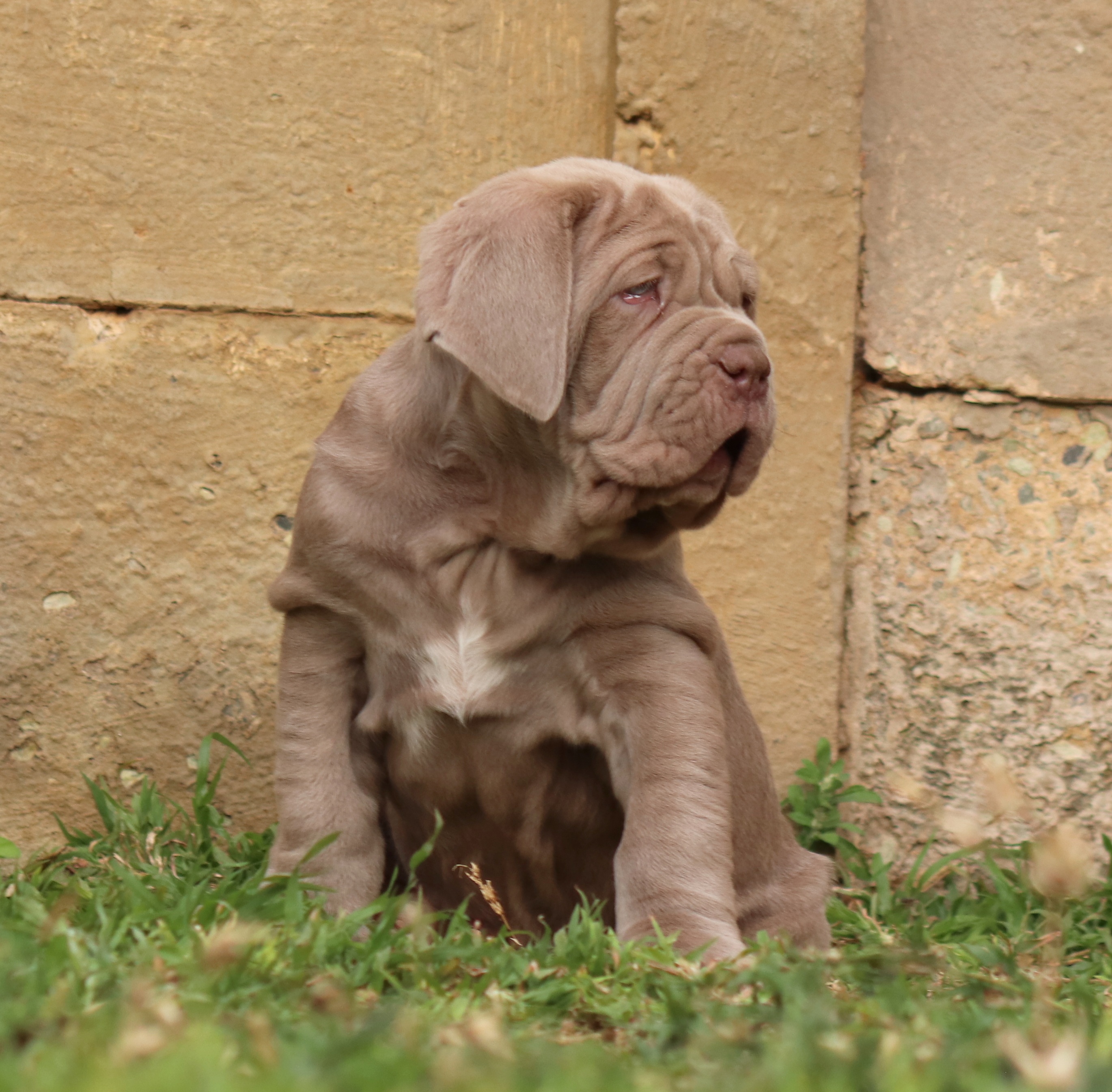 Coronte is by far the top winning Neo in SA. His titles include International champion, Grand Champion (The only Neo in SA) as well as SA Champion, KUSA National Neapolitan 2017, 2018 & 2019.
WHBA Dog of the Year 2017 Qualifier.
NAPC Top Dog 2018 and 2019 Qualifier
Crufts Qualified in 2017
Coronte is black brindle male, born in Serbia 18 April 2015, raised indoors on a farm in South Africa. He never had any eye issues. Strong bone. HD/ED Free. He became available as we have too many males, and we do not plan to include Coronte in future breeding plans. He is a very sociable male.
Coronte will be a super family pet and companion.
Litter born 26 November 2019!!! Limited puppies available!!!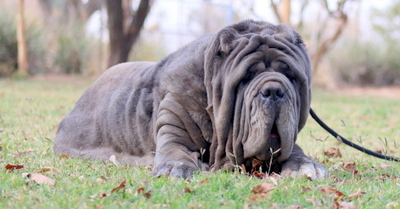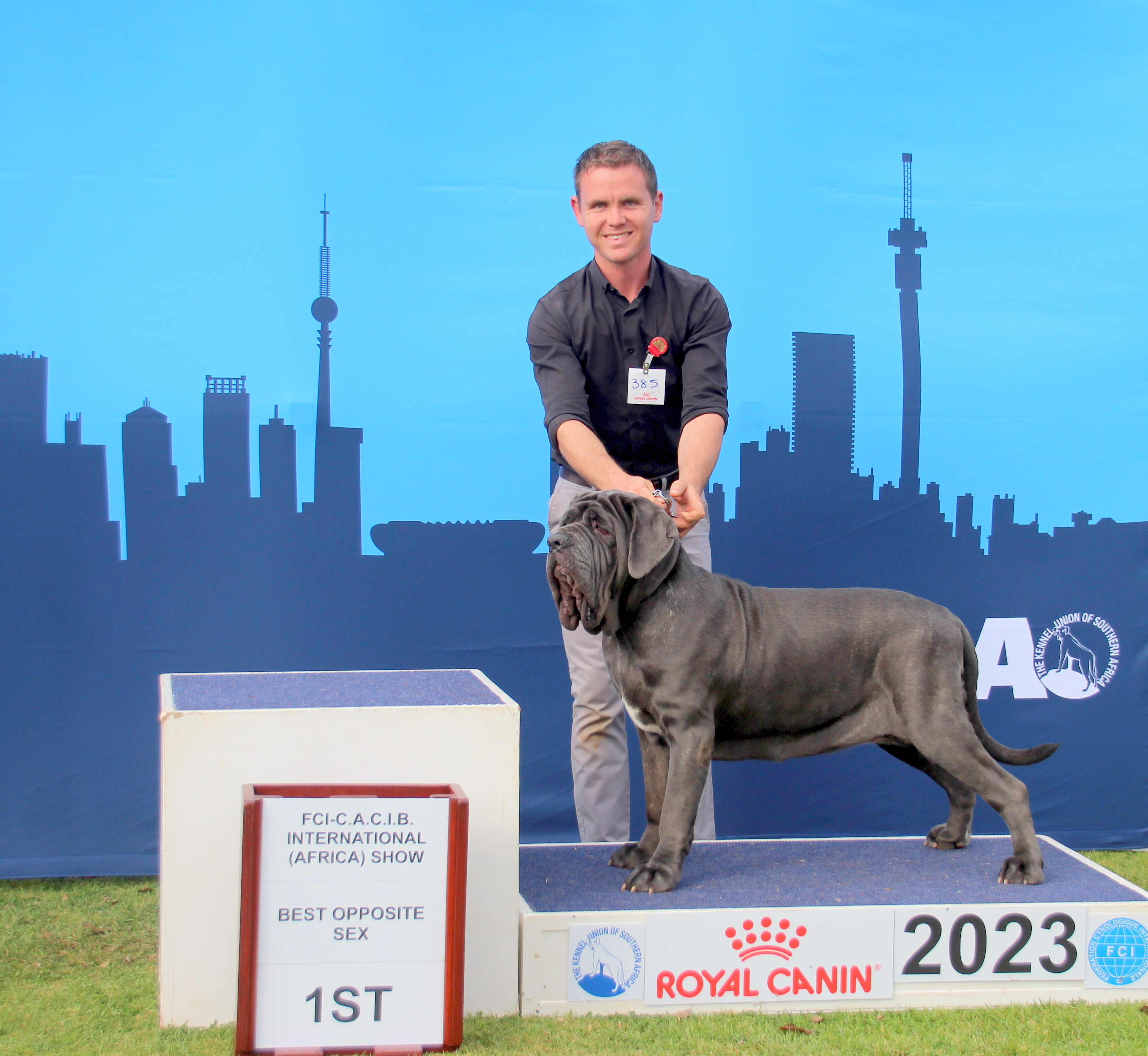 Litter born 29 November 2019. Tawny & Blue puppies available!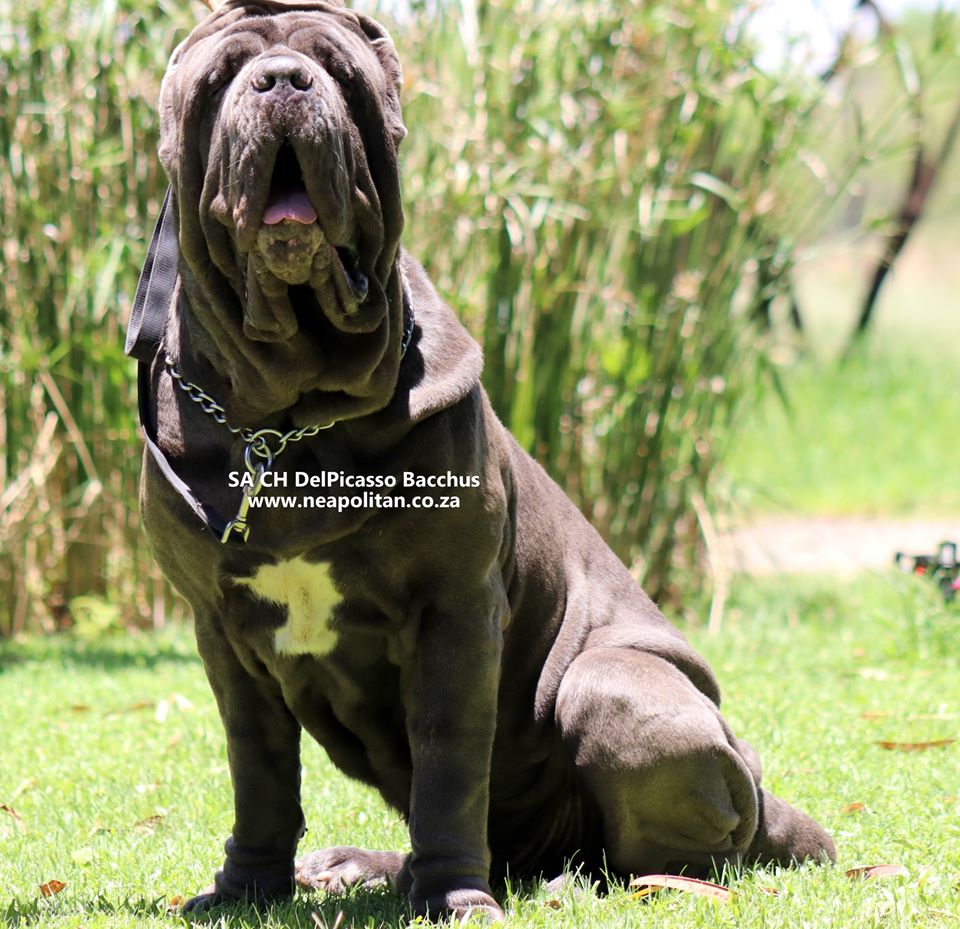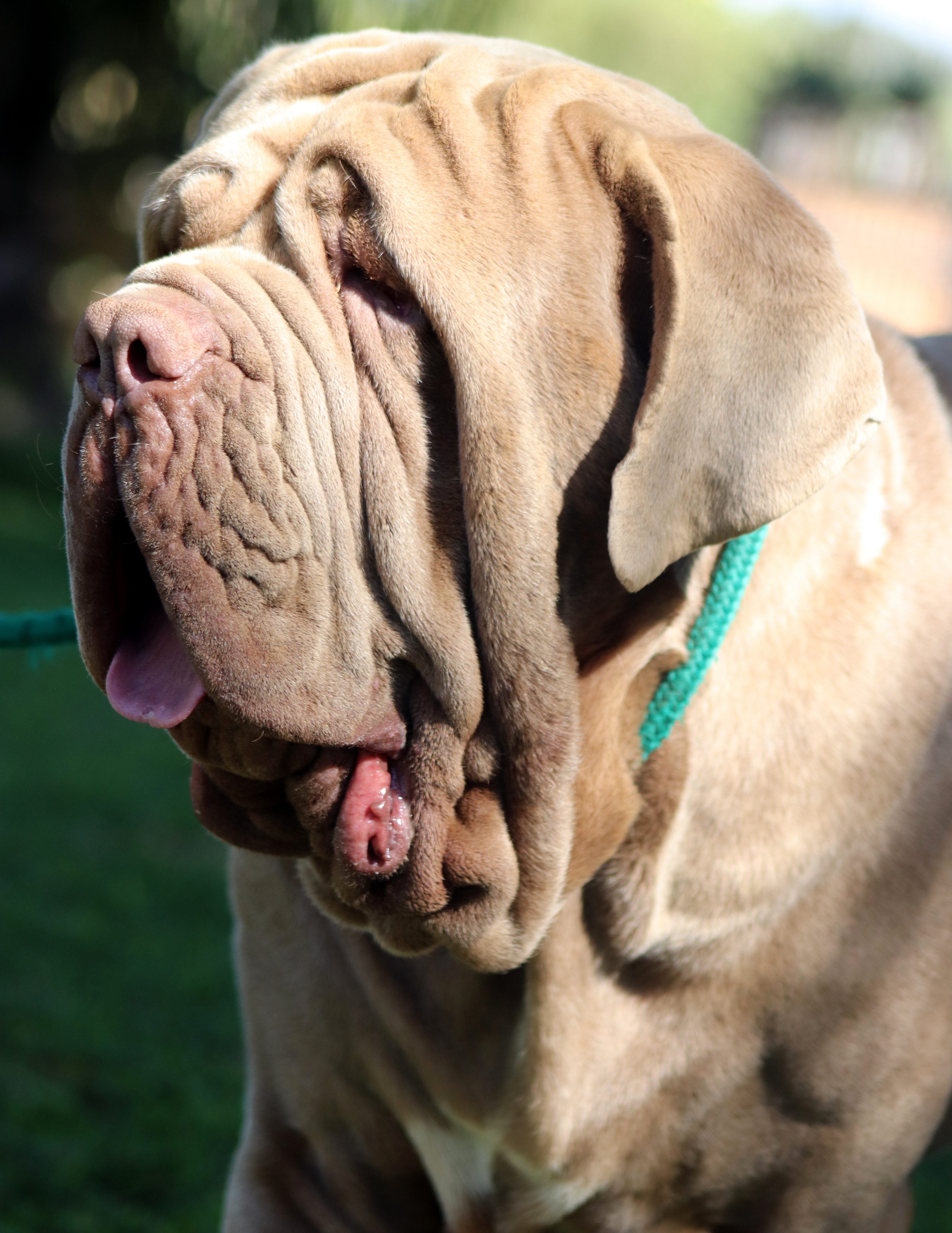 It is of utmost importance that people who acquire a Neapolitan Mastiff puppy know what they are getting into and what to expect from the breed. A Neapolitan Mastiff is very different from most other breeds in temperament, appearance and health requirements, to which people are familiar. We are passionate about the breed and will always assist potential buyers to make the correct decisions. We will always enquire, for example if the breed is suitable for a prospective home and will go to great lengths to advise how to choose a puppy, and so on.
Due to the amount of enquiries for puppies, worldwide, we just want to share a few facts with you:
We only take into consideration clients that have completed the Puppy application form (See link below) If you don't want to complete this form, don't bother to contact us for a puppy.

Once we receive this form we keep it in the date order received.

The moment we know that a bitch is pregnant, we will do an x-ray to determine how many puppies she will deliver. At this moment we do not know the sex of the puppies.

If you are next in line for a puppy, we will contact you, just to mention the possibility of getting a puppy. Once the pups are born and about 10 days old, we will confirm that you have a puppy.

It's up to you to decide if you want to cancel your application, or if you want to take the puppy.

Once confirmed that you are ready for this puppy, we will ask for a 50% deposit. Our deposits are 100% refundable, but with no deposit, we will not see you as a serious client.

We have two options for our puppies: Pet puppies or breeding and show puppies. Pet puppies are partially sterilized or vasectomised at the age of 11 weeks. Price for this procedure is included in the price for the puppy. Pet and breeding puppies are coming from the same litter, so you will not get inferior quality. It is just that you won't be able to breed. Pet puppies are much cheaper than the breeding puppies. Male puppies undergoes a vasectomy only and with female puppies the Vet ties off the tubes. This is done to avoid breeding with the animals, but that they still produce normal hormones for their total development.

If you were unable to meet us, and our lovely dogs, and you live overseas or quite far – Be rest assured that we will take great pride and responsibility to send you only the best. We are importing very often, and we know that you can sometimes get unpleasant, costly surprises.

When completing the puppy application form – please be 100 % honest at all times. It will only be of benefit to you and your family, as well as the puppy, if we know the circumstances. If we do think something can be a problem, we will contact you and discuss it. If ignored, out of experience, we can tell that it's just a matter of time, and you will run into problems. So please be 100% upfront with us, so we can assist you in making choices.

We export worldwide, but unfortunately

we do not export to African countries such as Nigeria, Ghana etc

. due to severe neglect towards animals. No exception here.

Puppies are going to their new homes, fully vaccinated, dewormed, registered and Microchipped.

Puppies are fed on Royal Canin Mother & Baby food for Giant breeds or Royal Canin Giant breed Puppy food for the first 6 weeks, thereafter they are fed Jock puppy food.
We give a lifetime agreement – if you bought one of our puppies, and you cannot keep it….doesn't matter for what reason, and even if it's old…please return your dog to us. We will try to do the best possible for this dog. Dogs are only rehomed into very well structured, controlled and most important lovable homes.
We respect the fact that you may like a certain male/female to breed from, but out of experience, we will decide on the couples to breed.
Please e-mail us if you have any other enquiries. We prefer that people visit us at home and meet all the dogs on the premises.
We take huge pride and responsibility as breeders of this magnificent breed. We have a reputation growing more than 20 years…so we prefer NOT to mess this up. Every enquiry will be treated as serious and we promise to deliver the best possible.
If you see this puppy as an easy Money making scheme – please do not contact us again.
INTERESTED?
If you are interested in acquiring a Picasso Neapolitan Mastiff, please download the application form, complete and submit it via email to info@delpicasso.com We shall be in contact with you shortly. Alternatively, you are welcome to contact us personally via the contact details on the Contact page.
Once the expected puppies are born, a deposit will be required to secure a booking. The cost of the puppy and deposit required will be discussed with you on our approval of your suitability as owner and caretaker of a Picasso Neapolitan Mastiff. We do not sell puppies to brokers or puppy farmers. We, the breeders, and you, the puppy purchaser, will enter into a signed contract of sale. All arrangements regarding collection or transport of the puppy will be made after payment of the deposit.