Ch Fulmine del Gheno - awarded KUSA National Neapolitan Mastiff 2012

Come join Picasso Neapolitan Mastiffs on Saturday 17 November 2012 at Goldfields Kennel Club (Boeing West Road, Bedfordview,

www.goldfieldskc.co.za

) enjoying a day in the sun with amazing talented and rare dogs, whilst at the same time creating awareness and raising funds for no-kill shelters. Canna Zone for Cesar's Way Magazine, along with Pick n Pay, will be launching the 2013 Hero Dogs Calendar in aid of Hartebeespoort Animal Welfare (HAWs), The Underdog Rehabilitation (JHB), Save-a-Pet (Port Elizabeth) and Anmial Action Dog Rescue (KZN). Events will include 1.) a rare dog display; various performances, including Alpha & Omega K9 team; Isuzu familiy vehicles to test drive, competitions and prizes and exciting product and service stands.
21 July 2012 - E-TV News Broadcasting includes an interview with us at World of Dogs and Cats.

WODAC 20-22 July 2012 - Once again succesfully showcased our beautiful Neapolitan Mastiffs!

May 2012 - Ch Fulmine del Gheno was awarded the title "National Neapolitan Mastiff for 2012" by The Kennel Union of South Africa (KUSA). We are so proud!!!

27 May 2012 - At the FCI International Africa Show, Ch Fulmine del Gheno received Cacib male; Ch Romana Brilliant Slovak-Fkes of DelPicasso was Cacib bitch; Delpicasso Bellissima was Best Puppy; AND she was placed 3rd in the Working Puppy Group! But the biggest surprise was DelPicasso Natasha at the age of 10 monts, taking Best of Breed!!! We are so proud. All 4 were also graded Excellent! Thank you to the judge Mr Fabian Daza-Almendrales!

26 May 2012 - DelPicasso Belilissima took Reserve Best of Breed as well as CC Bitch...AND...2nd in the Working Puppy Grout, at only 8 months of age!

April 2012 - Bellissima won Group 2nd place at an All Breed championship show at the age of only 6 months!
March 2012 - Daliah del Gheno arrived from Alaska.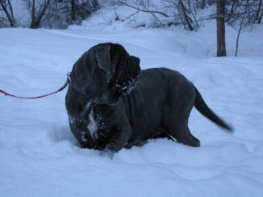 February 2012 - Duilio del Gheno arrived from Italy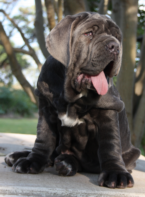 Dutch Ch Iejoor of the Thatchroof became South African Champion